"Pieces of My Existence"
Type of art: Pottery
This piece is a hand-built vase using the coil method to build the vessel. It is a part of my signature series representing the combination of tradition and a contemporary style of my own artistic continuity of pottery from the Haudenosaunee. The etched/scored, rough texture of the rim is influenced by pre-historic Iroquoian pottery. Before my ancestors began incising symmetric line designs of historic Iroquoian pots ca. 1600's, the rims were elaborated with simple lines. As artistic styles developed and adapted to what the maker saw in their world at the time; the linear designs became more geometric and complex. My contemporary shape and added glaze, is representative of my times and influences as a 21st century Haudenosaunee potter. And, the wampum pieces pay homage to our longstanding tradition of wampum belts and strings; so integral to our identity and ways of communication. The quahog , was a mainstay in Atlantic coastal tribes in the past and still to this day. Many levels of thought and teachings go into our Haudenosaunee tradition of honoring wampum. A true gift of the land.
Materials: White earthenware clay, clear glaze & wampum pieces (quahog shell)
Technique: Hand coiled, carved and etched. Kiln fired
Size: 14" H x 6" D x 5" W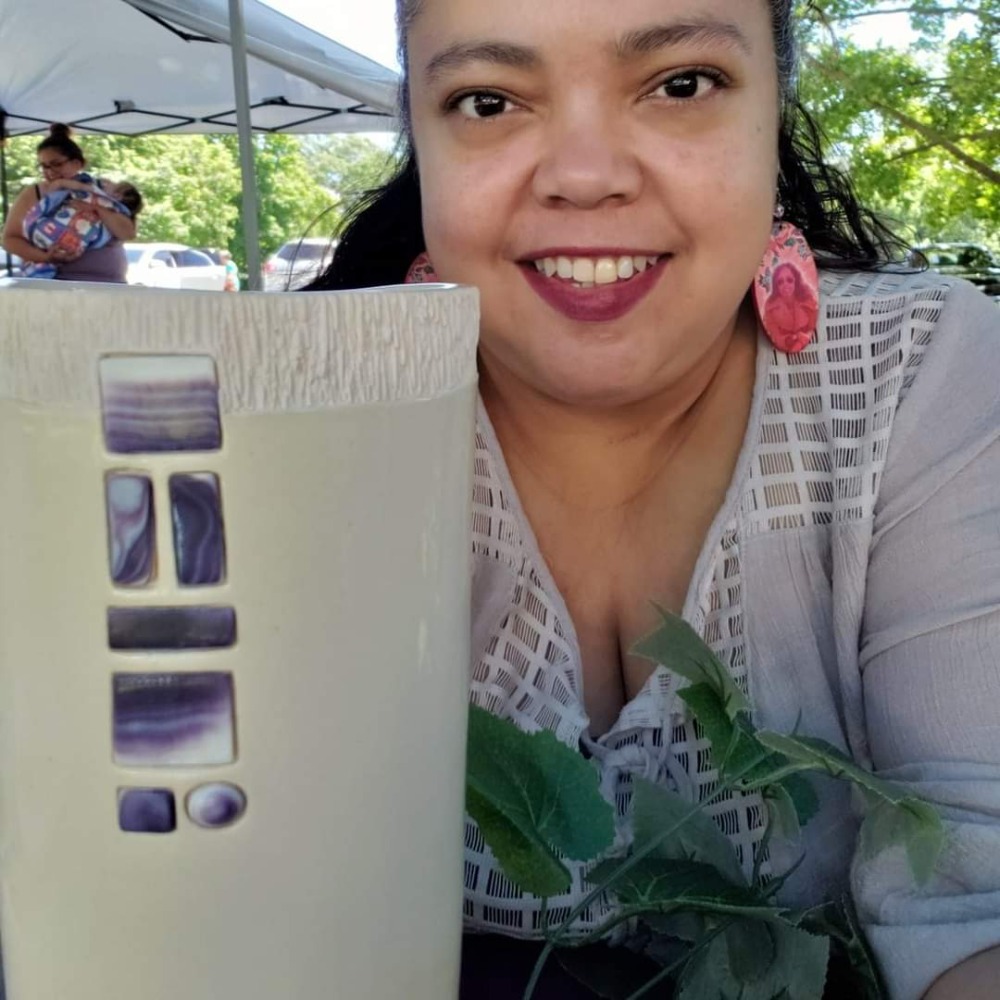 Brenda Hill
brendahillpottery@gmail.com
Brenda Hill, First Nations Tuscarora, Mohawk, Mississippi Choctaw & Cape Verdean, is a contemporary Native American potter practicing traditional techniques in order to create clay forms influenced by the past and present. Inspired by her late mother and grandfather respectively; Diosa Summers and Stan Hill Sr., she uses pottery to continue the legacy and to teach others the traditions of her Native culture. Brenda is an award-winning potter who honors her family and culture with her simply, elegant art. Her current work incorporates aspects from historic Haudenosaunee wampum belts, beadwork, and pottery. While utilizing more contemporary shapes and forms evolved from Brenda's own creative style. A complementary juxtaposition of old and new. Her interaction with the clay of the Earth reflects a strong spiritual connection to her ancestors, Native traditions, and the natural world. She uses wampum in her clay work, a way to pay homage to the centuries old form of communication for the