Vi
Type of art: Pottery
Hand built pot, that is embellished with fresh water pearls. Each flower is hand formed. This piece was made in honor of my grandmother Viola, she taught me the beauty of the simple flower.
Materials: Raku Clay & Fresh water pearls
Technique: Hand building and wheel thrown
Size: H16" W 14" Depth 12"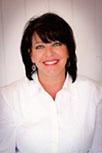 Tama Roberts
Cherokee Nation
(918) 636-2070
tamaroberts@ymail.com
My name is Tama Roberts, and I am a citizen of the Cherokee Nation. I have worked with a few different mediums, however, I have made the transition into ceramics within the last few years. Currently I am enrolled in the Cherokee Nation National Treasure mentorship program, which allows me to train with a Cherokee National Treasure. At this time I am training with Troy Jackson, and with Bill Glass, Jr. for the previous 2 years. Working with clay allows me to use the four elements of nature, to create original works of art, and to express the influence of nature on my life. Each piece is original, with no reproductions.