"Exposed" (waapantelilaani-I show something to you)
Type of art: Diverse Art Forms
The camera like the ones used to take photos of many indigenous children and those entering the boarding schools is matte black. I have made vinyl lettering a gloss black so the viewer can see in words what those children were "exposed" to.

ABUSE, psychological, physical, sexual...

LOSS, language, culture, innocence and life...

The camera removed their color. Not only of their skin and cloths but every colorful thing in life... Family, home, culture and spirituality. The butterflies flying from the camera are peyote stitched and represent now that the atrocities of the boarding schools has been ""exposed"" and made public the color of those children in the black and white photos has been released.

The camera's dry slides I used as frames for three children's images A young boy full of joy, a young girl with her arms crossed in defiance and a boy with the look of inquisitiveness and fear.

On the back of those images is stamped "Exposed" by a photographer who used these films before. Also, a picture of a Nun shaving a boys head after she had removed all of his personal possessions of his culture. She and others like her have tried through the Indian boarding school system to "Kill the Indian, Save the Man" they have now been "exposed" to the world. The orange hand prints are for those who survived.
Materials: 880's Kodak box camera with dry slide frames, photographs, mirror, copper wire and bear paw cutouts, metal stand and revolving pedestal, orange acrylic paint.
Technique: This piece is a 3D collage of vintage items and handmade pieces brought together telling a story. The title being a double entendre.
Size: 28" mirror circumference x 34" H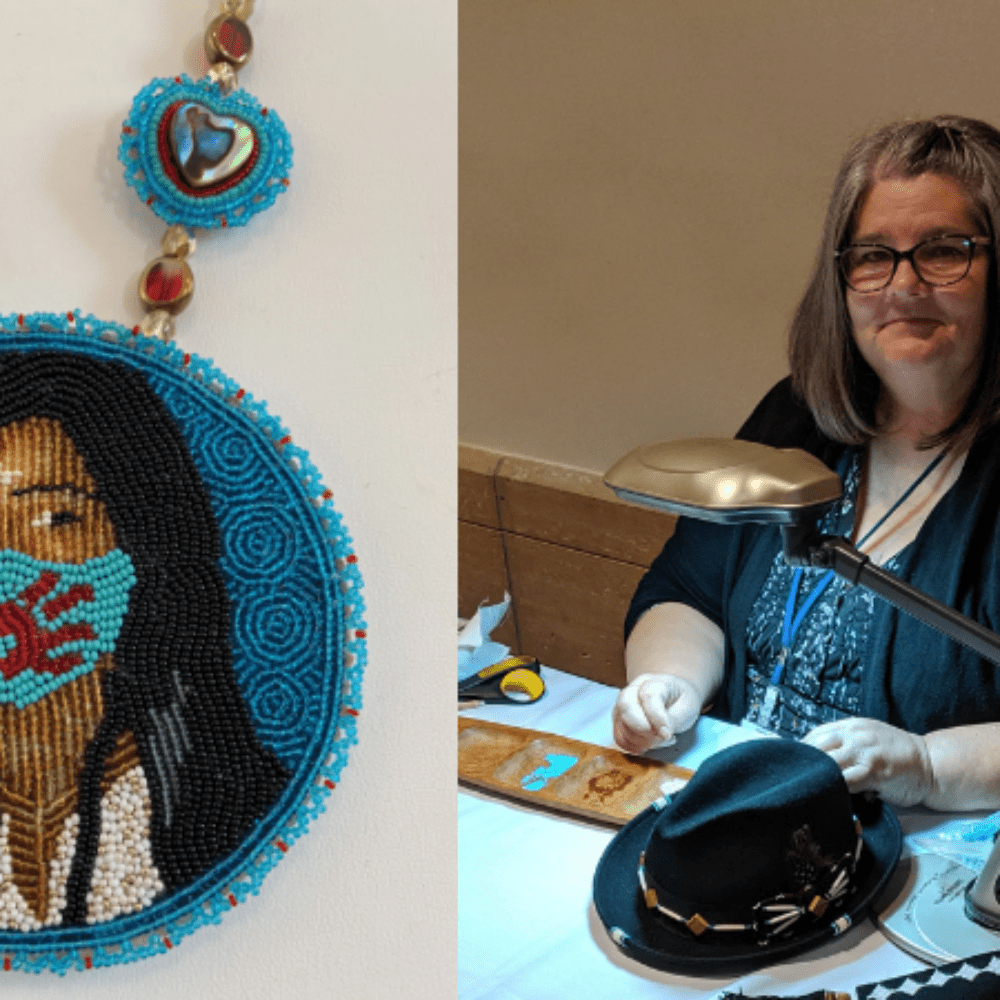 Katrina Mitten
Miami of Oklahoma
katrina@katrinamitten.com
Katrina Mitten is a citizen of the Miami Tribe of Oklahoma, an award winning artist in beading for over 45 years. Katrina has practiced traditional Great Lakes embroidery style native beadwork through study of family heirlooms, museum collections and practice. The imagery she creates is inspired by the world around her. Her works have been acquired by the Miami Tribe, national museums and private collectors. Illustrating the value she places on education. Katrina has been a corporate lecturer, contributed to elementary, secondary and university level educational programs, and featured in documentary films. "My teachers are the bead workers of the past."