Sweet Grass Four Directions Shield
Type of art: Pottery
SOLD
I made a 4 strand braid of sweet grass for another project and had a considerable length more than what I actually needed. I cut it off and banded it up for later use. The smell of sweet grass is nearly intoxicating! I kept looking at it and started wondering how I could use it with my clay...I thought about how I would like to smell the sweet grass no matter where I went. That is when I had the idea of making a 4 Direction Sweet Grass shield. I carefully pressed the braid into the clay in each direction, thinking about how sweet grass is used to invite in the good after the bad has been smudged out with sage...
After I fired the 9.5 inch shield to bisque, I decided on an art glaze that is green and brown. I love the way this one turned out. I hope you enjoy it as much as I enjoyed creating it!
Materials: Commercial clay; glaze & waxed cotton string
Size: Width - 9.5"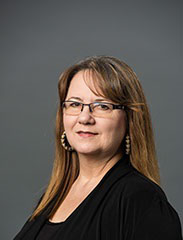 Eva Cantrell
Cherokee Nation
evacantrellcreations@gmail.com
Eva L. Cantrell is a citizen of the Cherokee Nation, Registry # 74050. Her great-grandfather, Callebert Harris, is listed on the Dawes Roll at #26990. Eva is an award winning artist and has participated in Cherokee Art Market, SWAIA, Trail of Tears Art Show, Artesian Art Market, SEASAM and more. Eva learned from renowned pottery artist Crystal Hanna; Cherokee National Treasures Jane Osti and Troy Jackson; and basket artist, Regina Thompson. She enjoys being able to teach others Cherokee stories through her artwork and what the various symbols mean in Cherokee culture.