Red Ribbon Skirt
Type of art: Textiles
SOLD
Red is my favorite color and this is a classy little number! This skirt is made of beautiful red cotton fabric decorated with red and black ribbons. Pair it with black shoes and top and you will be ready to go out for the evening! The waist is adjustable with buttonhole elastic and all seams have finished edges.
Materials: Cotton fabric
Technique: Sewing
Size: Waist – Adjustable up to 54" Bottom skirt width – 31" Length – 36"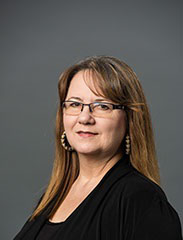 Eva Cantrell
Cherokee Nation
evacantrellcreations@gmail.com
Eva L. Cantrell is a citizen of the Cherokee Nation, Registry # 74050. Her great-grandfather, Callebert Harris, is listed on the Dawes Roll at #26990. Eva is an award winning artist and has participated in Cherokee Art Market, SWAIA, Trail of Tears Art Show, Artesian Art Market, SEASAM and more. Eva learned from renowned pottery artist Crystal Hanna; Cherokee National Treasures Jane Osti and Troy Jackson; and basket artist, Regina Thompson. She enjoys being able to teach others Cherokee stories through her artwork and what the various symbols mean in Cherokee culture.