Feathers and Hair Shield
Type of art: Pottery
SOLD
This is a unique piece of art completed using a raku technique. The pottery was rolled out flat, cut and placed on a convex surface. When the clay reached leather hard stage of drying I polished it with a smooth stone to close the pores and create a smooth surface with a bit of a shine. As soon as the firing in the electric kiln was finished, I removed the piece while it was still red hot. Then the hair was laid on it to add the lines and quickly placed the feathers on it one at a time to let the carbon from the burning feathers adhere to it. All this has to be done while wearing heavy leather gloves to avoid being burned. Each feather has been accented with copper acrylic paint and the front has been sealed with wax. This shield hangs by a waxed cotton twine.
Materials: Clay
Technique: Raku
Size: Width - 9.5"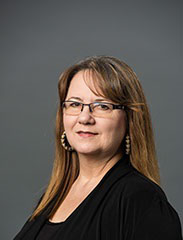 Eva Cantrell
Cherokee Nation
evacantrellcreations@gmail.com
Eva L. Cantrell is a citizen of the Cherokee Nation, Registry # 74050. Her great-grandfather, Callebert Harris, is listed on the Dawes Roll at #26990. Eva is an award winning artist and has participated in Cherokee Art Market, SWAIA, Trail of Tears Art Show, Artesian Art Market, SEASAM and more. Eva learned from renowned pottery artist Crystal Hanna; Cherokee National Treasures Jane Osti and Troy Jackson; and basket artist, Regina Thompson. She enjoys being able to teach others Cherokee stories through her artwork and what the various symbols mean in Cherokee culture.