Eagle Shield
Type of art: Pottery
SOLD
The eagle is one of the most majestic and revered birds in our country as well as on our reservations. This particular eagle design was found carved into a conch shell at the native ruins Spiro Mounds in Oklahoma. The carving was repeated several times on the shell and was quite small. I found it quite intriguing and HAD to reproduce it.
Materials: Commercial clay, acrylic paint, waxed cotton string
Technique: Slab rolled; hand incision and hand painted
Size: Width - 6.75"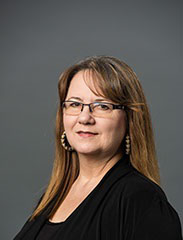 Eva Cantrell
Cherokee Nation
evacantrellcreations@gmail.com
Eva L. Cantrell is a citizen of the Cherokee Nation, Registry # 74050. Her great-grandfather, Callebert Harris, is listed on the Dawes Roll at #26990. Eva is an award winning artist and has participated in Cherokee Art Market, SWAIA, Trail of Tears Art Show, Artesian Art Market, SEASAM and more. Eva learned from renowned pottery artist Crystal Hanna; Cherokee National Treasures Jane Osti and Troy Jackson; and basket artist, Regina Thompson. She enjoys being able to teach others Cherokee stories through her artwork and what the various symbols mean in Cherokee culture.