Blue Vine Print Skirt
Type of art: Textiles
This cotton blend skirt is absolutely beautiful! There is more than 28 yards of ribbon in the creation of this skirt. There are 168 strips 4.5 inches long individually sewn onto the skirt. I completely lost track of the hours it took to sew them on! The black ribbon frame with the blue layered on top is accented with a delicate ivy stitch. There are also three rows of the ivy stitching over the 4.5 inch strips for an added touch. The bits of gold on the leaves make the finished product even more elegant. This skirt has an adjustable waist with buttonhole elastic. The seams all have finished edges and the side pockets are the icing on the cake!
Materials: Cotton Fabric
Technique: Sewing
Size: Waist - Adjustable up to 58" Bottom skirt width - 34" Length - 34"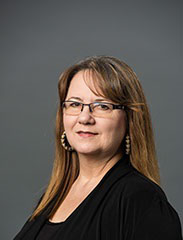 Eva Cantrell
Cherokee Nation
evacantrellcreations@gmail.com
Eva L. Cantrell is a citizen of the Cherokee Nation, Registry # 74050. Her great-grandfather, Callebert Harris, is listed on the Dawes Roll at #26990. Eva is an award winning artist and has participated in Cherokee Art Market, SWAIA, Trail of Tears Art Show, Artesian Art Market, SEASAM and more. Eva learned from renowned pottery artist Crystal Hanna; Cherokee National Treasures Jane Osti and Troy Jackson; and basket artist, Regina Thompson. She enjoys being able to teach others Cherokee stories through her artwork and what the various symbols mean in Cherokee culture.